Samples of my work
---
Strategic News Servicetm

To quote the site: "The Strategic News Service is the most accurate predictive newsletter covering the computing and communications industries." This web site acts as a marketing tool for the newsletter, but it is much more than that. It also provides limited access areas for subscribers, and it handles new subscriptions, renewals and upgrades - securely billing credit cards and authorizing user accounts in real-time. The newsletter and renewal reminders are published using administrative pages on the site. A shopping cart system now rounds out the site, selling 'merch' to subscribers.
Strategic News Service was, but is no longer hosted on this server (actually, when I quit working on the site, it stayed on the server which I then sold to the client. I moved my own stuff to a new replacement system). I was responsible for ongoing support and maintenance of the site. I wrote custom scripts which provide most of the functionality and integrate other off-the-shelf components into one cohesive system. I also created all the HTML and javascript. Due to my move away from consulting, I stopped maintaining the site around 2002. To the best of my knowledge, the site still operates using much of the code I originally created.
Graphic design by Kopetz Bolich design. Production and text by PreText.
---
PreText Magazine traceroute

PreText was a short-lived on-line magazine. They contracted this page to serve as an example of the UNIX utility traceroute. It is a support page to a March '98 article (archive.org cache) describing traceroute and how it is used by system administrators to track down network problems. I also acted as a technical advisor on the article itself.
The trace page itself has been disabled due to a rash of idiotic gamers asking me for help with Microsoft's game system. Apparently microsoft tech reps were giving out my address so users could use the page for debugging.
---
Puget Sound Data Systems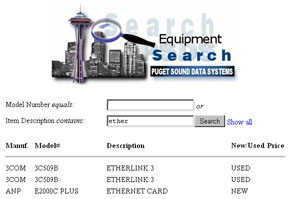 A pearl search engine. This simple site (now offline, apparently) exemplifies my design philosophy. Simple, easy-to-use controls and a clean, readable design. I believe in remaining true to the nature of the web, using bandwidth only when it's appropriate and focusing on the information; using design elements to emphasize what's important to the user.
---
Health Information Institute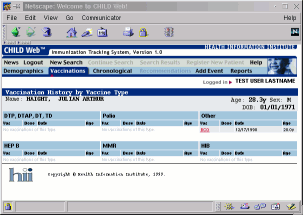 Child Web is a secure web application for managing medical records (immunization events). It runs on Microsoft's Internet Information Server. Child Web acts as a user-friendly interface to a back-end Oracle database.

This application was basically done when I found it, and I have been doing maintenance. I have re-written most of the ASP (VBScript) which drives the web-interface: fixing bugs, refining, and of course, adding many new features. This site (www.h2i.com) also seems to have dropped off the face of the planet.
---
Pulse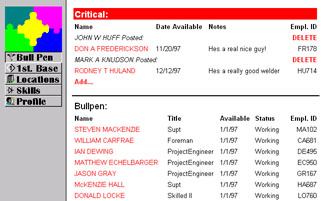 This is an intranet system for tracking construction workers. It was based on a previous implementation in Microsoft Access. Both versions of the software now operate from a common database. The web interface provides a subset of the original features, allowing foremen in the field to update employee records and request additional personnel.
---
Scroller

Here's my version of the ubiquitous scrolling news window.
---
Fun Stuff!
If you haven't yet, take a look at my fun and useful programs. These are programs written on my own time for entertainment and education. Be sure to check out my Photo slide show applet if you like Java.